Muslim World League : Meeting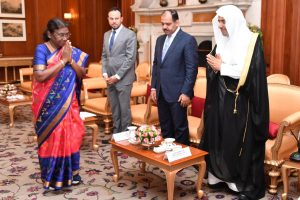 President Droupadi Murmu had a meeting with the Secretary General of the Muslim World League, at Rashtrapati Bhavan in New Delhi.
President Droupadi Murmu said that India appreciates the role and objectives of the Muslim World League in promoting tolerant values, moderation of consciousness and inter-faith dialogue.
India is the country with the second-largest population of Muslims in the world
Muslim World League (MWL) is an international Non-governmental organization (NGO).
Established: 1962.
It was founded in accordance with a resolution adopted during the meeting of the General Islamic Conference, which was held in Holy Makkah on the 14th to the 18th May 1962.
Headquarter: Makkah, Saudi Arabia.