18th East Asia Summit: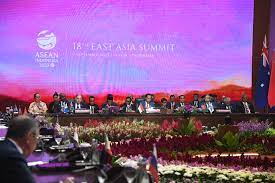 Prime Minister attended the 18th East Asia Summit (EAS) was held in Jakarta.
18th East Asia Summit (EAS):
At the 18th EAS, the Leaders' Declaration on ASEAN as an Epicentrum of Growth was adopted.
It was discussed on building resilience against emerging challenges and future shocks through cooperation on enhancing energy security and food security, maintaining financial stability, and strengthening regional health architecture.
The Plan of Action (POA) for the next five years outlines the priorities that include efforts on the mainstreaming and implementation of the ASEAN Outlook on the Indo-Pacific (AOIP).
It lays emphasis on strengthening partnerships, through cross-sectoral collaborations that includes efforts in furthering the implementation of the 2030 Agenda for Sustainable Development.
The meet provided an opportunity for ASEAN member states and the eight non-ASEAN countries to exchange views on issues concerning the region and the world at large.