13th East Asia Summit: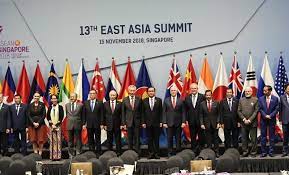 India's External Affairs Minister attended the 13th East Asia Summit Foreign Ministers' Meeting and utilized the opportunity to engage in discussions with China's top diplomat, on the sidelines of the event.
They discussed outstanding issues along the Line of Actual Control (LAC), emphasizing the importance of peace and the disengagement of troops.
East Asia Summit was established in 2005 as an Association of Southeast Asian Nations (ASEAN)-led initiative.
The EAS is the only leader-led forum in the Indo-Pacific that brings together all key partners to discuss political, security and economic issues of strategic importance.
The EAS operates on the principles of openness, inclusiveness, respect for international law, ASEAN centrality, and ASEAN's role as the driving force.
The idea of an East Asia Grouping was first proposed by then Malaysian Prime Minister Mahathir Mohamad in 1991.
The first summit was held in Kuala Lumpur, Malaysia on 14 December 2005.
The EAS comprises 18 members: the 10 ASEAN countries (Brunei, Cambodia, Indonesia, Laos, Malaysia, Myanmar, Philippines, Singapore, Thailand, and Vietnam) and eight dialogue partners (Australia, China, India, Japan, New Zealand, Republic of Korea, Russia and the United States).