18th G20 Summit : Highlights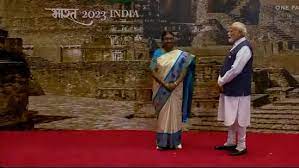 The 18th G20 Summit was held in New Delhi, India on September 9th and 10th, 2023. The summit was the first time India hosted the G20 Leaders' Summit.
Theme : The theme of the summit was "Vasudhaiva Kutumbakam", which means "The world is one family".
Key Highlights of G20 Summit 2023:
Admittance of the African Union (G20 now G21).
Global Biofuels Alliance (GBA).
Formation and Founding Members: The alliance was launched with nine initiating members: India, the US, Brazil, Argentina, Bangladesh, Italy, Mauritius, South Africa, and the United Arab Emirates.
GBA Members constitute major producers and consumers of biofuels.
USA (52%), Brazil (30%) and India (3%), contribute about 85% share in production and about 81% in consumption of ethanol.
India – Middle East – Europe Economic Corridor (IMEC) :A Memorandum of Understanding (MoU) was signed between the Governments of India, the US, Saudi Arabia, the European Union, the UAE, France, Germany and Italy to establish the IMEC.
IMEC is part of a broader initiative called the Partnership for Global Infrastructure Investment (PGII).
G20 Global Partnership for Financial Inclusion Document: The G20 Global Partnership for Financial Inclusion document prepared by the World Bank has lauded the transformative impact of India's Digital Public Infrastructure(DPI) over the past decade under the Central Government.
Rapid Financial Inclusion: India's DPI approach achieved 47 years' worth of financial inclusion progress in just 6 years.
Jan Dhan-Aadhar-Mobile (JAM) Trinity boosted the financial inclusion rate from 25% in 2008 to over 80% within 6 years.
Government to Person (G2P) Payments: India's digital G2P architecture facilitated USD 361 billion transfers to beneficiaries from 53 ministries via 312 schemes.
Unified Payments Interface (UPI) Dominance: May 2023 witnessed over 9.41 billion UPI transactions, valued at Rs 14.89 trillion.
Private Sector Efficiency: DPI streamlined private organizations' operations, reducing complexity, costs, and time.
Lower Compliance Costs for KYC: Reduced compliance costs from USD 0.12 to USD 0.06, making lower-income clients more attractive.
Cross-Border Payments: UPI-PayNow linkage enables faster and cheaper cross-border payments with Singapore.
Account Aggregator Framework: Enabled 1.13 billion accounts for data sharing with 13.46 million consents raised.
Data Empowerment and Protection Architecture (DEPA): Provides individuals control over their data, fostering innovation and competition.
Tripling the Global Renewable Energy Capacity By 2030: G20 countries promised to work towards tripling the global renewable energy capacity by 2030.
Commitment to Global Food Security and Nutrition