18th India-ASEAN Summit: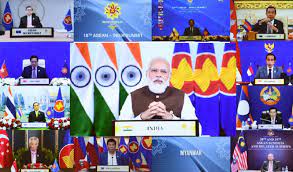 Prime Minister Narendra Modi participated in the 18th India-ASEAN Summit at the invitation of His Majesty Sultan Haji Hassanal Bolkiah of Brunei, the current Chair of ASEAN.
Highlighting the milestone of 30th anniversary of India-ASEAN Partnership, the leaders announced the Year 2022 as India-ASEAN Friendship Year.
Building upon the synergies between the ASEAN Outlook for the Indo-Pacific (AOIP) and India's Indo-Pacific Oceans Initiative (IPOI), PM and ASEAN leaders welcomed the adoption of the India-ASEAN Joint Statement on cooperation for peace, stability and prosperity in the region.
On COVID-19, the Prime Minister highlighted that India has contributed medical supplies worth USD 200,000 to ASEAN's humanitarian initiative for Myanmar and USD 1 million for ASEAN's Covid-19 Response Fund.
Prime Minister Modi announced India's support for establishing the ASEAN Cultural Heritage List.