22nd Law Commission Of India: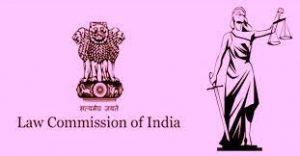 The Government of India has informed the Supreme Court that appointment of the Chairperson and Members of the 22nd Law Commission of India, the Government's top body to recommend crucial legislative reforms, is under consideration.
The 22nd Law Commission was constituted by the Government on February 21, 2020.
However, no progress has been made in the appointments till date and the short affidavit filed by the Law Ministry in the court does not explain the reasons for the day.
The Centre also made it clear that there was no such proposal to make the Law Commission a statutory body.
The Law Commission of India is a non-statutory body constituted by the Government of India from time to time.
The Commission was originally constituted in 1955 and is re-constituted every three years.
The first such Commission was established in 1834 under the Charter Act of 1833 under the Chairmanship of Lord Macaulay.
The First Law Commission of Independent India was established in 1955 under the Chairmanship of the then Attorney-General of India, M. C. Setalvad.
The 22nd Law Commission will consist of –

a full-time Chairperson;
four full-time Members (including Member-Secretary)
Secretary, Department of Legal Affairs as ex-officio Member;
Secretary, Legislative Department as ex officio Member; and
not more than five part-time Members.