India-Gabon Relations: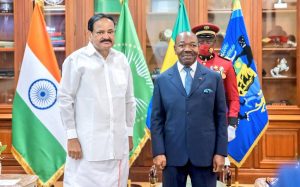 A delegation from Gabon visited India and interacted with the Indian business community, also India congratulated Gabon on its Independence Day (17th August).
Earlier, the Vice President of India visited Gabon, where he signed two MoUs (Memorandum of Understanding).
Establishment of a Joint Commission between the Governments of India and Gabon.
Diplomats' training institutes, Sushma Swaraj Institute of Foreign Services and Gabonese Ministry of Foreign Affairs.
India signed to work with Gabon to strengthen cooperation in various spheres at bilateral, regional, and multilateral levels.