36th India-France Strategic Dialogue: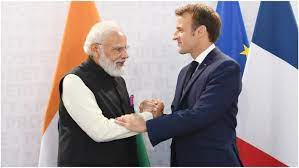 The 36th India-France Strategic Dialogue took Place on January 5, with a focus on addressing China's militarization of the Indo-Pacific region and ways in which the two nations can work together to counter it.
In addition to the strategic talks, Diplomatic Advisor Bonne Met with India's Defence Minister and External Affairs Minister.
India is seeking to strengthen its self-reliance in weapons and hardware with the help of key allies like France due to Russia's preoccupation with the war in Ukraine.
Topic Of Discussion:
Aircraft Engines and Submarines:
One area where India is seeking French assistance is in the manufacturing of aircraft engines.
India is looking for a transfer of technology to enable it to make engines for its indigenous twin-engine fighter, as well as the design and development of next-generation military and civilian engines for future fighter and transport platforms.
Indo-Pacific Security and Space Cooperation:
Another key topic of discussion during the strategic dialogue is the Indo-Pacific region, where France is ready to help India with ocean bed mapping and the development of underwater drones and sensors
Terrorism and Regional Stability:
During the strategic dialogue, Bonne also  briefed by Doval on the posture of the PLA along the 3488 km Line of Actual Control (LAC) between China and India, and the two leaders discused ways to bring both Russia and Ukraine to the negotiating table to end the conflict that began in February 2022.