6th Session Of India-Ethiopia Joint Trade Committee: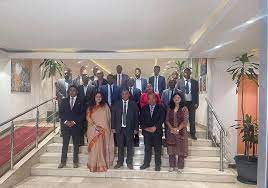 The 6th Session of the India-Ethiopia Joint Trade Committee (JTC) recently concluded in Addis Ababa, Ethiopia, bringing together officials from both countries to strengthen economic ties.
Key Highlights of the JTC meeting:
India invited Ethiopia to collaborate on integrating the Unified Payment Interface (UPI) with Ethiopia's Ethswitch.
Ethswitch is a payment platform infrastructure in Ethiopia.
India urged Ethiopia to explore settling trade transactions in the local currency for enhanced bilateral trade and conservation of foreign exchange.
Health and pharmaceuticals, automobiles, textiles, infrastructure projects, food, and agro-processing are identified as key sectors for mutual investments.
Both sides also reviewed the progress of ongoing discussions for Memorandum of Understanding (MoUs) in the field of Standardization and quality assurance and Customs procedure and agreed to conclude them expeditiously.