Bioeconomy Report 2022: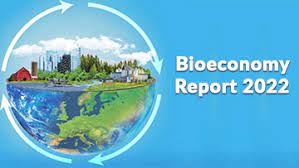 India aims to increase the Bioeconomy's contribution to GDP (Gross Domestic Product) from 2.6% to 5% by 2030, as outlined in the 'Bioeconomy Report 2022' by the Department of Biotechnology (DBT).
Biotechnology funding in India remains stagnant, with only a 0.0001% allocation of the GDP.
Despite a temporary increase during Covid-19, funding levels haven't returned to pre-pandemic standards.
The 'Guidelines for Genetically Engineered (GE) Insects', issued by the DBT in April 2023, provide procedural roadmaps for those interested in creating GE insects but have issues.
Highlights of the Bioeconomy Report 2022:
India's bioeconomy is on a robust growth trajectory, projected to reach USD 150 billion by 2025 and surpass USD 300 billion by 2030.
The sector experienced a remarkable 14.1% increase, reaching USD 80 billion in 2021 compared to USD 70.2 billion in 2020.
Daily, the bioeconomy generated USD 219 million, reflecting its significant economic impact.
In 2021, the sector witnessed the establishment of three biotech startups daily, totaling 1,128 for the year.
With over USD 1 billion invested in research and development, the industry is demonstrating a commitment to innovation and advancement.
Amidst the global pandemic, India administered 4 million Covid-19 vaccine doses and conducted 3 million tests daily, showcasing its resilience and capacity.
Over the past decade, the number of biotech startups has soared from 50 to over 5,300, with expectations of doubling by 2025.
The Biotechnology Industry Research Assistance Council (BIRAC) has played a pivotal role by establishing 74 bio-incubation centers across 21 states/UTs, fostering a supportive environment for bio-entrepreneurs.
Notably, India boasts the second-highest number of USFDA (United States Food and Drug Administration)-approved manufacturing plants outside the US, underscoring its global standing in the biotech industry.