All India Survey Of Higher Education (AISHE) Survey 2020-21: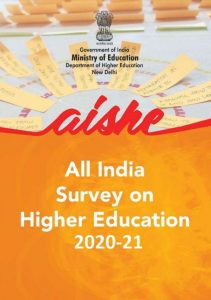 The All India Survey of Higher Education (AISHE) Survey 2020-21 conducted under the Ministry of Education found that the Muslim community's enrolment in higher education declined at a time when the enrolment of SCs, STs and OBCs improved.
All India Survey of Higher Education is an annual web-based survey, which started in 2010-11 and conducted by Ministry of Education.
Various parameters of data collection includes teachers, student enrolment, programmes, examination results, education finance, and infrastructure.
For the first time, the Higher Education Institutions (HEIs) of India have filled their data using an entirely online data collection platform through the Web Data Capture Format (Web DCF) developed by the Department of Higher Education and the National Informatics Centre (NIC).
Key findings from the report:
Gross Enrolment Ratio(GER) for all enrolments (as per 2011 Census) increased by over 2 points to 27.3.
The female enrolment in higher educationprogrammes had increased to 49% of total enrolments in 2020-21 compared to 45% in 2019-20.
More SC students who were enrolled in 2020-21 compared two lakh to the previous year.
The year also saw about three lakh more ST students and six lakh more OBC students being enrolled for higher education.
The proportion of Muslim students enrolling for higher education dropped to 4.6% in 2020-21 from 5.5% in 2019-20
During 2020-21, the number of universities has increased by 70, and the number of colleges has increased by 1,453.
The female per 100 male faculty has improved to 75 in 2020-21 from 74 in 2019-20 and 63 in 2014-15.