Global Hunger Hotspots: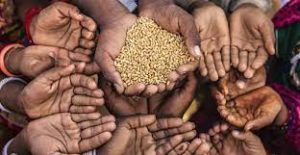 According to a new report published by United Nations, several parts of the world faces increase in acute food insecurity. India's neighbors, Pakistan, Afghanistan and Myanmar, are among the hunger hotspots in the world.
Global Hunger Hotspots: Acute food insecurity can potentially increase in magnitude and severity for 18 areas in 22 countries, according to the Food and Agriculture Organization of the United Nations (FAO) and the World Food Programme (WFP).
Findings of the report titled "Hunger Hotspots FAO‑WFP early warnings on acute food insecurity":
Highest concern level countries: Afghanistan, Nigeria, Somalia, South Sudan, Yemen Haiti, Burkina Faso and Mali.
Highest concern level countries have populations facing or projected to face starvation or are at risk of deterioration towards catastrophic conditions, given they already have critical food insecurity and are facing severe aggravating factors.
These countries require the most urgent attention.
Hotspots with very high concern countries: Pakistan, the Central African Republic, Ethiopia, Kenya, the Democratic Republic of the Congo, the Syrian Arab Republic and Myanmar.
These hotspots have many people facing critical acute food insecurity, coupled with worsening drivers that are expected to intensify life‑threatening conditions in the coming months.
Hunger hotspot countries: Lebanon, El Salvador, Nicaragua, Malawi, Guatemala and Honduras.