Article 370 And Article 35A: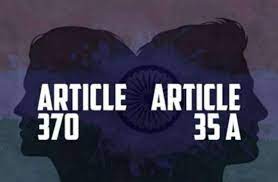 Three years of abrogation of Art 370 and Art 35A in Jammu and Kashmir.
Article 370 conferred on J&K the power to have a separate constitution, a state flag, and autonomy of internal administration.
Article 35A: It empowered the Jammu and Kashmir state's legislature to define "permanent residents" of the state and provide special rights and privileges to them.
Under Constitution (Application to Jammu and Kashmir) Order, 2019: It made provisions of the Indian constitution applicable in the state of J&K.
All provisions which separated the Constitution of J&K were abrogated (35A was automatically scrapped)
Under the J&K reorganization Act, 2019: The state was reorganized into two UTs – J&K (with legislature) and Ladakh (without Legislature)
Impact : J&K cannot maintain a separate flag, Ranbir Penal Code replaced with IPC, all the provisions of the Indian Constitution now automatically apply to J&K as well, and Law and order incidents have seen a drastic reduction.