India Seed Fund Scheme: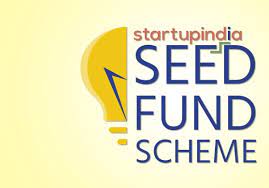 Commerce and Industry ministry launched this scheme in 2021 to provide financial assistance to eligible startups (DPIIT chosen) through incubators for proof of concept, prototype development, product trials and commercialization.
Eligibility: A startup, recognized by DPIIT, incorporated not more than 2 years agoat the time of application and should not have received more than 10 lakhs of monetary support under any other Central or State Government scheme.
Features: Grants of up to 5 crores to eligible incubators, they in turn will provide up to Rs. 20 lakh(for proof of concept, prototype development, or product trials to startups) and up to Rs. 50 lakh (for market entry, commercialization, or scaling up) to eligible startups.
Startup India Initiative: Started in 2016, it envisages building a robust Startup ecosystem in the country for nurturing innovation and providing opportunities to budding entrepreneurs.