Asia-Pacific Economic Cooperation Leaders Summit 2023: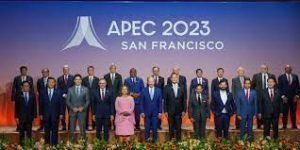 The Asia-Pacific Economic Cooperation (APEC) Leaders' Summit 2023 took place in San Francisco, United States.
Key Highlights of the APEC Leaders' Summit 2023:
The APEC 2023 summit's theme is "Creating a Resilient and Sustainable Future for All".
APEC reaffirmed their commitment to free, fair, and open trade and investment, and to advancing inclusive and sustainable growth in the region.
The summit concluded with the adoption of the Golden Gate Declaration.
The declaration underscores the commitment to creating a resilient and sustainable future for all member economies.
The APEC leaders endorsed the APEC Action Agenda on Climate Change and Energy Security, which outlined a set of concrete actions and targets to enhance cooperation and coordination on addressing the climate crisis and ensuring energy security.
Asia-Pacific Economic Cooperation:
The APEC is a regional economic forum established in 1989 to leverage the growing interdependence of the Asia-Pacific.
APEC aims to create greater prosperity for the people of the region by promoting balanced, inclusive, sustainable, innovative and secure growth and by accelerating regional economic integration.
The APEC process is supported by a permanent secretariat based in Singapore.
Members: Australia, Brunei, Canada, Chile, China, Hong Kong, Indonesia, Japan, South Korea, Malaysia, Mexico, New Zealand, Papua New Guinea, Peru, Philippines, Russia, Singapore, Chinese Taipei, Thailand, Vietnam and the United States.
India currently has the 'observer' status.