Birth Anniversary Of Rani Lakshmibai: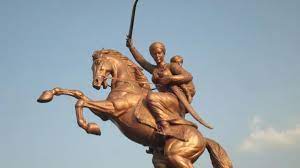 The Prime Minister has paid tributes to the symbol of the bravery of Indian women power, Rani Lakshmibai on her birth anniversary(19th November 1828 in Varanasi, Uttar Pradesh).
Rani Lakshmibai, originally named Manikarnika was one of the brave warriors of India's struggle for Independence and the Queen of the Maratha-ruled princely state of Jhansi.
She married Maharaja Gangadhar Rao at the age of 14, adopting the name Laxmibai. Her son died, and she later adopted Damodar Rao.
In 1853, when the Maharaja of Jhansi died, Lord Dalhousie refused to acknowledge the child and applied the Doctrine of Lapse, and annexed the state.
According to this, any princely state that was under the direct or indirect control of the East India Company where the ruler did not have a legal male heir would be annexed by the company.
She was one of the leading figures of the Indian Revolt of 1857.
Rani Lakshmibai fought bravely against the British to save her empire from annexation.
She died fighting on the battlefield on 17th June 1858.
When the Indian National Army started its first female unit (in 1943), it was named after the valiant queen of Jhansi.