Bilateral Trade and Investment Agreement (BTIA):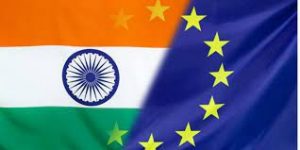 The government officials have revealed that India and the European Union (EU) are set to resume negotiations for a Bilateral Trade and Investment Agreement (BTIA). The BTIA talks have been suspended since 2013.
However, at India-EU Leaders' Meeting earlier this year, both countries agreed to relaunch free trade negotiations for the BTIA and also adopted a Connectivity Partnership.
About BTIA:
India and EU had launched talks for having a wide-ranging Free Trade Agreement (FTA), officially called broad-based BTIA, long ago in 2007.
The BTIA was proposed to encompass trade in goods, services and investments.
However, the talks stalled in 2013 over differences on market access and movement of professionals.
The EU was India's largest trading partner in goods 2019-20, ahead of China and the US, with total trade close to USD 90 billion.
With the signing of the BTIA , India and the EU expect to promote bilateral trade by removing barriers to trade in goods and services and investment across all sectors of the economy.
Pursuit of self-reliance has been accelerated by the Covid-19 crisis under the Atmanirbhar Bharat Mission. This is perceived by the European Union as India's "protectionist stance".
India may find it difficult to meet the sustainable standards in labour and environment on which the EU now lays greater emphasis.
India seeks to signal that it means business and is not averse to signing trade agreements after it opted out of the Regional Comprehensive Economic Partnership (RCEP) at the last moment.
The EU, in turn, wants to diversify its value chain away from China to India and, hence, there is interest on its part also to have a trade agreement with India.