MGNREGS : Flexibility At The Ground Level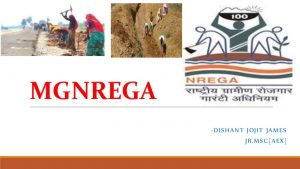 An internal study commissioned by the Ministry of Rural Development has argued for decentralisation of the Mahatma Gandhi National Rural Employment Guarantee Scheme (MGNREGS), allowing for more "flexibility" at the ground level.
There should be a greater diversification of permissible works instead of listing the types of permissible works, broad categories of works may be listed out and flexibility should be given at ground level to select the type of works as per broad categories,
The study also flagged the frequent delay in fund disbursal, and to deal with it suggested a "revolving fund that can be utilised whenever there is a delay in the Central funds".
The MGNREGS wages were far below the market rate in many States, defeating the purpose of acting as a safety net.
At present, the minimum wage of a farm labourer in Gujarat is ₹324.20, but the MGNREGS wage is ₹229.
The Mahatma Gandhi National Rural Employment Guarantee Act (MGNREGA):
The Mahatma Gandhi National Rural Employment Guarantee Act (MGNREGA) was enacted on August 25, 2005.
It provides a legal guarantee for one hundred days of employment in every financial year to adult members of any rural household willing to do public work-related unskilled manual work at the statutory minimum wage.
The Ministry of Rural Development (MRD) is monitoring the entire implementation of this scheme in association with state governments.
This act was introduced with an aim of improving the purchasing power of the rural people, primarily semi or un-skilled work to people living below poverty line in rural India.