Boao Forum for Asia Annual Conference 2021: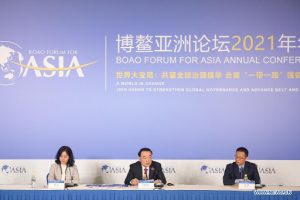 The opening ceremony of the Boao Forum for Asia Annual Conference 2021 was held in Boao, south China's Hainan Province.
This year's conference was attended by more than 2,600 guests from over 60 countries and regions.
Theme: "A World in Change: Join Hands to Strengthen Global Governance and Advance Belt and Road Cooperation."
At the event, BFA released an annual report on the Asian economy.
Key findings:
In terms of purchasing power parity, Asia's share in the global economic aggregate in 2020 reached 47.3 percent, up 0.9 percentage points from 2019, indicating the increasing role of Asia in the global economy.
The economic integration of all Asian economies is accelerating. By February 2021, there had been 186 regional trade agreements in force inside and outside Asia, accounting for 54.9 percent of the total regional agreements around the world.
In particular, the signing of the Regional Comprehensive Economic Partnership Agreement (RCEP) in November 2020 has been injecting strong momentum into regional and global economic growth, which is expected to give renewed impetus to further accelerate the negotiation of free trade agreements in Asia.
About the Bao Forum:
The Boao Forum for Asia was initiated in 2001 by 25 Asian countries and Australia (increased to 28 in 2006).
It is a non-profit organization.
It has provided a high-end platform for political, business, and academic leaders in Asia and the world.
It is modeled on the World Economic Forum held annually in Davos, Switzerland.
The Forum is committed to promoting regional economic integration and bringing Asian countries even closer to their development goals.
It has made positive contributions to the promotion of regional economic integration, common development, and the building of a more prosperous and harmonious Asia.