Bura Chapori Wildlife Sanctuary : Illegal Encroachers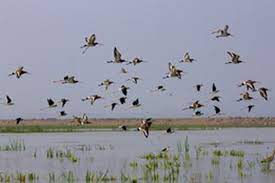 Several people injured over clash between forest team and illegal encroachers at Bura Chapori Wildlife Sanctuary.
Bura Chapori Wildlife Sanctuary is located on the southern bank of river Brahmaputra in the Sonitpur district, Assam.
It is a part of the Laokhowa-Burachapori eco-system.
It comprises of a mosaic of wet alluvial grassland, riparian and semi-evergreen forests dotted by wetland and river systems.
The grassland is also rich in various kinds of medicinal herbs and plants.
It is home to the Great Indian one-horned rhinoceros, tiger, leopard, wild buffalo, hog deer, wild pig, and elephants.
It includes the highly endangered Bengal Florican.
It also makes it an ideal breeding place for several species of migratory birds during the winter season.