Houthis: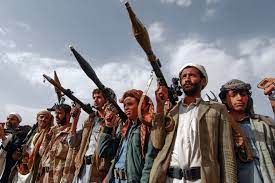 Two Indians and a Pakistani were killed and six other people including two Indians were injured in an attack by suspected drones on three petroleum tankers at an oil facility in Abu Dhabi, United Arab Emirates (UAE).
The attack was claimed by the Iran-backed Houthi rebels of Yemen. Indians were not the target of the attack.
Yemen is located at the junction of the Red Sea and Gulf of Aden, its coastline commanding the strategic strait of Bab al-Mandab.
The country has been wracked by civil war for more than seven years now, and the Houthis control the western part of the country, including the capital Sana'a.
The war involves several nations directly or indirectly, and the attack in Abu Dhabi spotlights the multiple conflicts that are playing out in Yemen and the wider region as a whole.
The Houthis are a large clan belonging to the Zaidi Shia sect, with roots in Yemen's northwestern Saada province. Zaidis make up around 35 per cent of Yemen's population.