Centre's Fiscal Deficit : Report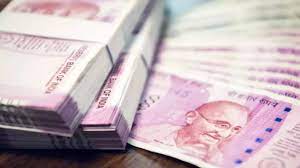 The Centre's fiscal deficit in the first four months of 2023-24 touched 33.9% of the full-year target.
In the Union Budget, the government projected to bring down the fiscal deficit to 5.9% of the gross domestic product (GDP) in the current FY.
The deficit was 6.4% of the GDP in 2022-23 against the earlier estimate of 6.71%.
Fiscal Deficit:
Fiscal deficit is the difference between the government's total expenditure and its total revenue (excluding borrowings).
It is an indicator of the extent to which the government must borrow in order to finance its operations and is expressed as a percentage of the country's GDP.
A high fiscal deficit can lead to inflation, devaluation of the currency and an increase in the debt burden.
While a lower fiscal deficit is seen as a positive sign of fiscal discipline and a healthy economy.