Red Sand Boa : WCS Report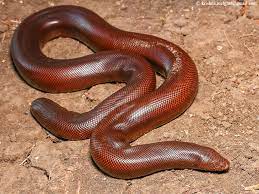 A report by the Wildlife Conservation Society (WCS)-India titled 'Illegal Trade of Red Sand Boa in India 2016-2021' has exposed the trade of red sand boa.
It is concern about the illegal trade of Red Sand Boas and the urgency for conservation efforts.
The report documents a total of 172 incidents of seizures involving red sand boas between 2016 and 2021, revealing the alarming extent of illegal trade.
Illegal trade spans 18 Indian states, 1 Union Territory, and 87 districts; Maharashtra and UP record the highest incidents.
Maharashtra dominates with 59 cases, including urban areas like Pune, Thane, Mumbai Suburban.
Uttar Pradesh closely follows 33 incidents, often near Nepal's border in districts like Bahraich, and Lakhimpur-Kheri.
Social media, especially YouTube, aids illegal trade, with 200 sales-promoting videos in 2021.
The report's findings underscore the urgent need for conservation efforts to prevent the further decline of the red sand boa population and protect India's biodiversity.
The Red Sand Boa:
Red Sand Boa (Eryx johnii), commonly called the Indian Sand Boa, is a non-venomous species.
It is a primarily reddish-brown and thick-set snake that grows to an average length of 75 cm.
Unlike most snakes, the tail is almost as thick as the body and gives the reptile the appearance of being "double-headed".
The Red Sand Boa is the largest of the sand boa in the world. Nocturnal and spends the majority of its time under the ground.
Found in the whole of India excluding North-east states and North-Bengal; also not found in Indian islands.
Status:

IUCN Red List: Near Threatened
Convention on International Trade in Endangered Species of Wild Fauna and Flora (CITES): Appendix II.
Indian Wildlife (Protection) Act of 1972: Schedule IV.