Collegium System: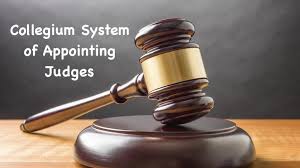 The government has said that there was a call from within the judiciary and parliamentarians to change the collegium system for appointment of judges.
A draft memorandum of procedure for bringing transparency and accountability to the system was submitted by the Government to the Supreme Court, and it was pending.
In exercise of the powers conferred by clause (2) of Article 124 of the Constitution of India, the appointments are made by the President of India.
The names are recommended by the Collegium.
The norms relating to the eligibility has been envisaged in the Article 124 of the Indian Constitution.
To become a judge of the Supreme court, an individual should be an Indian citizen.
In terms of age, a person should not exceed 65 years of age.
The person should serve as a judge of one high court or more (continuously), for at least five years or the person should be an advocate in the High court for at least 10 years or a distinguished jurist.
Collegium System:
It is the system of appointment and transfer of judges that has evolved through judgments of the SC, and not by an Act of Parliament or by a provision of the Constitution.
The SC collegium is headed by the CJI and comprises four other senior most judges of the court.
A HC collegium is led by its Chief Justice and four other senior most judges of that court.
The collegium sends its final recommendation to the President of India for approval.
The President can either accept it or reject it.
In the case it is rejected, the recommendation comes back to the collegium. If the collegium reiterates its recommendation to the President, then he/she is bound by that recommendation.