Digital News Report 2022: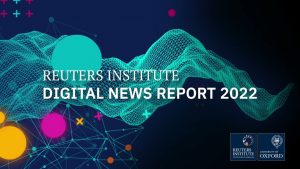 Digital News Report 2022 was released by Reuters Institute.
The Reuters Institute for the Study of Journalism is dedicated to exploring the future of journalism worldwide through debate, engagement, and research.
This year's report, the eleventh overall, is based on a survey conducted by YouGuv, a British market research and data analytics firm, in January/February 2022 through online questionnaires.
It covers 46 markets in six continents.
Highlights of the Report:
People are trusting news content less and less.
Consumption of traditional news media declined in nearly all the countries surveyed.
The proportion of news consumers who avoid news has risen sharply across countries, with the report describing the phenomenon as "selective avoidance".
Despite small increases in the proportion of people willing to pay for online news (mostly in richer countries), the growth in digital subscriptions for news content seems to be leveling off.
The smartphone has become the dominant way in which most people first access news in the morning.
While Facebook remained the most-used social network for news, it is TikTok that has become the fastest-growing network, reaching 40% of 18-24-year-olds, with 15% using the platform for news.