Identifying a Forest: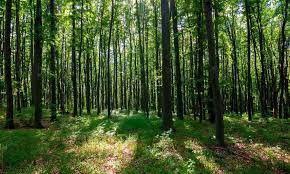 The Ministry of Environment, Forest and Climate Change has objected to Chhattisgarh for its transfer of land without following due process from its Forest to the Revenue Department.
In March 2022, Chhattisgarh Chief Minister announced in his Budget speech that the state government has transferred over 300 sq km an area larger than Raipur in the Bastar region from the Forest department to the Revenue department to ensure easy availability of land for setting up industries and building infrastructure.
In August 2022, the Union Environment Ministry's Integrated Regional Office asked the state to stop the transfer of land, saying it was in violation of the Forest Conservation Act, 1980 and multiple Supreme Court orders, and return the land already transferred.
The move has now run into a hurdle, even as paperwork is underway for transferring more land to other parts of the state.
At present, in India, there is no clear nationally-accepted definition of 'forest'.
States are responsible for determining their definition of forests.
The prerogative of the states to define forests stems from a 1996 Supreme Court order called the T.N. Godavarman Thirumulkpad vs the Union of India judgment.
In the judgement, the Supreme Court interpreted that the word "forest" must be understood according to its "dictionary meaning".
This description covers all statutorily recognised forests, whether designated as reserved, protected or otherwise.
Forests are included in the Concurrent List in the (Seventh Schedule) of the Constitution of India.Through the 42nd Amendment Act, 1976 Forests and Protection of Wild Animals and Birds were transferred from State to Concurrent List.
State Forest Departments have jurisdiction over two types of forests notified under the Indian Forest (IF) Act, 1927: Reserve Forests (RF), where no rights are allowed unless specified, and Protected Forests (PF), where no rights are barred unless specified.
Certain forests, such as villages or nagarpalika forests, are managed by state Revenue Departments.