Devasahayam Pillai Becomes First Indian Layman To Be Declared Saint By Pope Francis: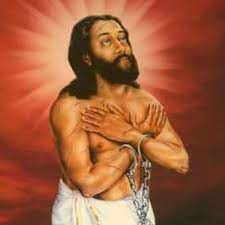 Devasahayam was recommended for the process of Beatification by the Vatican in 2004.
Beatification is a recognition accorded by the Catholic Church of a deceased person's entrance into Heaven and capacity to intercede on behalf of individuals who pray in their name.
With the completion of the process, Devasahayam pillai, who took the name "Lazarus" after embracing Christianity in 1745, on may 15th became first Indian layman to be declared a saint by Pope Francis during an impressive canonisation ceremony at the Vatican.
Devasahayam was born on April 23, 1712, as Neelakanta Pillai into a Hindu Nair family, at Nattalam in Kanyakumari district, which was part of the erstwhile Travancore kingdom.
Devasahayam Pillai was an Indian layman of the Catholic Church.
He is considered a martyr and was canonized as a saint with nine others by Pope Francis on 15 May 2022.
He was an official in the court of Travancore's Maharaja Marthanda Varma when he was instructed into the Catholic faith by a Dutch naval commander.
"Lazarus" or "Devasahayam" in Malayalam, translates to "God is my help".