India International Cruise Conference 2022: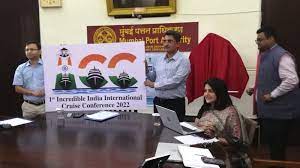 The first Incredible India International Cruise Conference 2022 was held.
India is working on a national tourism policy to give an impetus to the Tourism industry.
The conference has been jointly organized by the Ministry of Ports, Shipping & Waterways and Federation of Indian Chambers of Commerce and Industry (FICCI).
Some of the key issues being deliberated at the two day event:

Strategies for developing India as a cruise hub, policy initiatives and port infrastructure, potential of river cruise tourism, role of technology in the post-pandemic world.

The Indian cruise market has the potential to grow 10 folds over the next decade, driven by rising demand and disposable incomes.
India is a magnificent cruise destination, several attractions of India along its 7,500 km long coastline and vast river systems are yet to be unveiled to the world.
The government of India realizes the potential and is determined to position India as a global cruise hub with state-of-art infrastructure for both ocean and river cruises.
In India, global players have shown a keen interest in promoting cruise tourism, and with the right infrastructure, this could happen with the adoption of modern technology, India will certainly become one of the top tourism destinations in the world.
India aims to increase cruise passenger traffic from 0.4 million at present to 4 million.
Economic potential of Cruise tourism is expected to go up from USD 110 mn to USD 5.5 bn in the years to come.