Diplomatic Immunity To Avoid Criminal Charges: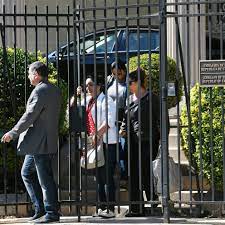 After she allegedly hit two staff members at a boutique in Seoul last month, the wife of Belgium's ambassador to South Korea will now be exercising her diplomatic immunity to avoid criminal charges.
Diplomatic immunity is a privilege of exemption from certain laws and taxes granted to diplomats by the country in which they are posted.
The custom was formed so that diplomats can function without fear, threat, or intimidation from the host country.
Diplomatic immunity is granted on the basis of two conventions, popularly called the Vienna Conventions — the Convention on Diplomatic Relations, 1961, and the Convention on Consular Relations, 1963.
They have been ratified by 187 countries, including South Korea, which means, it is a law under that country's legal framework and cannot be violated
According to the Vienna Convention on Diplomatic Relations, 1961, the immunity enjoyed by a diplomat posted in the embassy is "inviolable". The diplomat cannot be arrested or detained and his house will have the same inviolability and protection as the embassy.
It is possible for the diplomat's home country to waive immunity but this can happen only when the individual has committed a 'serious crime', unconnected with their diplomatic role or has witnessed such a crime.
Alternatively, the home country may prosecute the individual.