Special Courts: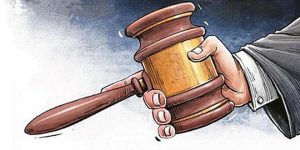 The Supreme Court has decided to examine questions regarding the legal jurisdiction of the special courts set up to exclusively prosecute Members of Parliament and State Legislative Assemblies for various offences.
There are more than 4000 cases pending against legislators across the country. Of this, the number of cases against sitting Members of Parliament and members of State legislatures was 2,556.
The cases against the legislators include that of corruption, money laundering, damage to public property, defamation and cheating.
A large number of cases were for violation of Section 188 IPC for wilful disobedience and obstruction of orders promulgated by public servants.
A large number of cases were pending at the appearance stage and even non-bailable warrants (NBWs) issued by courts have not been executed.
Besides, in Bihar, 89% Assembly constituencies have three or more candidates who have declared criminal cases against themselves in their affidavits for the ongoing elections.
A three-judge committee of the Madras High Court, in November 2020, questioned the constitutional validity of setting up special courts to exclusively try MPs and MLAs for various crimes.