Electric Vehicle (EV) Policy: Assam: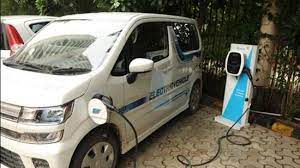 The Assam government has unveiled an electric vehicle (EV) policy for phasing out vehicles running on fossil fuels by 2030.
Highlights of the Policy:
The policy aims to introduce at least 200,000 electric vehicles (EVs) within the next five years through a set of incentives for buyers.
It entails converting all government vehicles and fleet of public buses to electric and deploying 2 lakh EVs within the next five years.
In order to encourage people to buy EVs, the state government will give a subsidy of ₹20,000 on two-wheelers, ₹50,000 for three-wheelers and ₹1.5 lakh for four-wheelers.
There will be 100% exemption of registration fees, road tax and parking fees for EVs.
It also envisages charging stations for EVs across the state. Entrepreneurs setting up the stations will get a 90% discount on their electricity bills for the first five years.
The government aims to see 6 million electric and hybrid vehicles on the roads by 2020 under the National Electric Mobility Mission Plan 2020.
Faster Adoption and Manufacturing of Electric Vehicles in India (FAME India Scheme) for improving electric mobility in India.