The Vehicle Scrappage Policy: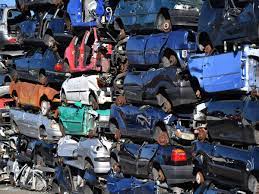 Prime Minister Narendra Modi launched the vehicle scrappage policy with an aim to phase out old and unfit vehicles in an environment-friendly manner. The goal for 21st century India to be Clean, Congestion Free & Convenient Mobility, is the need of the hour," Modi said.
As per law, a registration certificate for a passenger vehicle is valid for 15 years from date of issue. For a commercial vehicle, it is valid for a period of 10 years.
The scrappage policy will come into effect after the expiry of this 10 or 15 year period. The vehicle will then have to undergo a mandatory fitness test.
As per the motor vehicle law, renewal of fitness certificate annually is mandatory for a commercial vehicle once it is older than eight years. For the first eight years, such vehicles will need to undergo the test after every two years.
If a vehicle passes the fitness test then it will have to repeat the same after every 5 years to keep a check. A valid fitness certificate will be necessary for renewal of registration certificates after 15 years. The renewed certificate will be issued for a period of 5 years in case of private vehicles.
Incentives for scrapping old vehicles:
Firstly, owners of such vehicles will get a scrap value which will be equivalent to 4 per cent to 6 per cent of the ex-showroom price of the new vehicle that they would be purchasing.
Secondly, there will be zero registration fees for new vehicle purchased if the owner shows a certificate of deposit.
Thirdly, state governments have been asked to offer concessions on motor vehicle tax. The concessions include up to 25 per cent for non-transport vehicles and up to 15 per cent for transport vehicles.
Fourthly, vehicle manufacturers have been advised to provide 5 per cent discount on purchase of new vehicle against certificate of deposit.