Hybrid Electric Vehicle: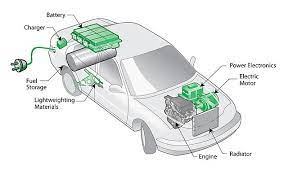 In recent months, automakers Maruti Suzuki, Toyota and Honda have launched hybrid electric vehicles in India, offering car buyers more choices in the nascent electric vehicle market.
A hybrid electric vehicle (HEV) uses an ICE (a petrol/diesel engine) and one or more electric motors to run.
It is powered by the electric motor alone, which uses energy stored in batteries, by the ICE, or both
The efficiency of HEVs will be determined by their ability to recover as much energy as possible while braking, with a higher degree of energy recovery lowering fuel consumption.
A regenerative braking system (RBS) while enhancing fuel economy also helps in energy optimisation resulting in minimum energy wastage.
The HEVs can be categorised into micro, mild and full hybrid vehicles, based on the degree of hybridisation.
The hybrid variants of the Maruti Suzuki's Grand Vitara and the Toyota's Urban Cruiser Hyryder can be classified as full and mild hybrids.