Exercise AGNI DAMAN-23: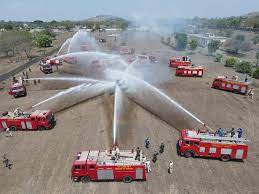 A mutual firefighting Exercise named AGNI DAMAN-23 was conducted recently.
EX AGNI DAMAN-23 is a Civil–Military mutual firefighting exercise.
Objectives is to emphasise the need for awareness and training of men on firefighting and to exercise the capabilities of combined forces of all agencies including military and civil.
It was conducted at 29 Field Ammunition Depot, Dehu Road under the aegis of Headquarters Southern Command.
A total of 56 firefighting columns including 32 from civil agencies participated actively in the exercise.
Drills and procedures including swift response strategy against all types of fire were rehearsed in a coordinated manner.