Exercise SEA DRAGON 23: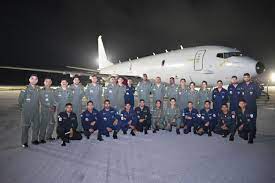 Indian Navy is participating in SEA DRAGON 23 exercise in waters off Guam, USA which has been scheduled from 15-30 March 23.
The Sea Dragon is an annual, multinational anti-submarine warfare (ASW) exercise conducted by the United States Navy.
Participating Countries: India, USA, Japan, Canada and South Korea.
The annual exercise launched in 2014. This is the third edition of the coordinated multi-lateral ASW exercise for Long Range MR ASW aircraft.
The Exercise aims to achieve high levels of synergy and coordination between the friendly navies, which is based on their shared values and commitment to an open, inclusive Indo-Pacific.
The Exercise would witness representation by an Indian Navy P8I aircraft along with other countries' aircrafts.
This exercise will test the capabilities of participating aircraft in tracking simulated and live underwater targets, whilst also sharing mutual expertise.