Exercise INIOCHOS-23: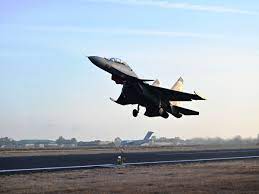 The Indian Air Force (IAF) recently announced that it will take part in Exercise INIOCHOS-23 in Greece.
Exercise INIOCHOS-23 is an annual multi-national air exercise hosted by the Hellenic Air Force, the air force of Greece.
It is based on the Single Base Concept, which means the entire exercise takes place from a single air base.
INIOCHOS-23 will be conducted at the Andravida Air Base in Greece.
Objective is to enhance international cooperation, synergy and interoperability amongst the participating air forces.
The exercise will be conducted in a realistic combat scenario involving multiple types of air and surface assets.
It will also enable the participating contingents to engage in professional interactions, providing valuable insight into each other's best practices.
The IAF will be participating with four Su-30 MKI and two C-17 aircraft.
Apart from the hosts, the USA, France and Italy, and others like Jordan and Saudi Arabia are participating in INIOCHOS-23.