GI Tag To Ishad Mango : Karnataka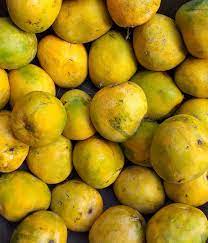 The delicious Ishad mango from Uttara Kannada (Karnataka) has earned its much-awaited geological indicator (GI) tag.
Ishad mango is grown predominantly around Ankola, is tasty and contains a lot of pulp.
It is said that the mango variety has been cultivated for the last 400 years.
It has two variants — Kari Ishad, which has thin skin, more pulp and is sweeter, and Bili Ishad, which has thick skin and less pulp and sweetness.
The Kari Ishad is accepted as one of the finest quality mangoes due to its unique aroma, luscious taste, high amount of pulp, shape, and size.
Geographical Indication Tag:
It is a sign used on products that have a specific geographical origin and possess qualities or a reputation that are due to that origin.
This is typically used for agricultural products, foodstuffs, wine and spirit drinks, handicrafts and industrial products.
The Geographical Indications of Goods (Registration and Protection) Act, 1999 seeks to provide for the registration and better protection of geographical indications relating to goods in India.
This GI tag is valid for 10 years following which it can be renewed.