Cumbum Grapes :GI Tag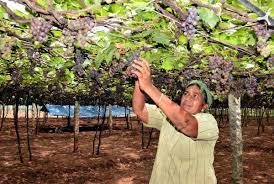 The Cumbum grapes recently earned the Geographical Indication tag or GI tag.
Cumbum Panneer Thratchai, also known as Cumbum grapes, is a variety of grapes grown in the Cumbum Valley located at the Western Ghats in Tamil Nadu, India.
The grapes are medium to large in size, compact, and suitable for making wine, spirits, jams, canned grape juice, and raisins.
Introduced in Tamil Nadu in 1832 by a French priest, these grapes are rich in vitamins, tartaric acid, and antioxidants, and reduce the risk of some chronic diseases.