Military Tattoo And Tribal Dance Festival: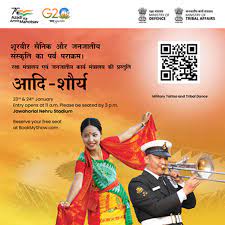 A Military Tattoo and Tribal Dance Festival – Aadi Shaurya – Parv Parakram Ka will be held at Jawaharlal Nehru stadium in New Delhi on the 23 January.
The two-day festival will showcase the prowess of the Armed Forces and the ethnic beauty of India's tribal culture.
The programme comprises a Military Tattoo – Paramotor Gliding, Hot Air Balloon, Horse Show, Motor Cycle Display, Air Warrior Drill, Navy Band and traditional dance performances by tribal artists from across the country.
The aim of the festival is to remember the sacrifices of the country's brave hearts and celebrate the rich cultural heritage which makes India so unique and diverse.
The objective is to celebrate together the bravery of Netaji Subhas Chandra Bose, embrace the true spirit of India and renew the commitment to building a strong and prosperous New India.
The Ministry of Defence and the Ministry of Tribal Affairs are jointly organising the event.