Jalgaon Banana: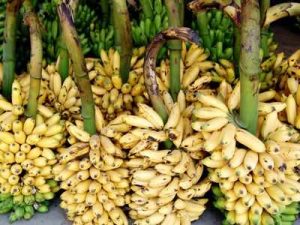 A consignment of fiber and mineral-rich GI CERTIFIED Jalgaon banana has been exported to Dubai from Tandalwadi village, Jalgaon district of Maharashtra. In 2016, Jalgaon Banana got GI certification which was registered with Nisargraja Krishi Vigyan Kendra (KVK) in Jalgaon.
India is the world's leading producer of bananas with a share of around 25 percent in total output.
Banana is widely grown in the tropical, subtropical, and coastal regions of India.
Andhra Pradesh is the largest producer in India followed by Gujarat, Tamil Nadu, Maharashtra, Kerala, Uttar Pradesh, Bihar, and Madhya Pradesh.
All these states contribute more than 70 percent of the country's banana production.
The country's banana export has been rising sharply because of the adoption of farm practices as per the global standards.
The majority of banana exports from India are to West Asian and North African countries like UAE, Bahrain, Egypt, Saudi Arabia, Qatar, and Iran.