Global Skills Summit 2022: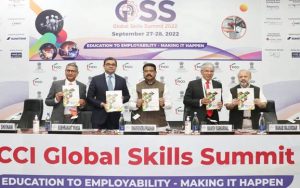 The Union Skill Development and Entrepreneurship Minister inaugurated the 13th Federation of Indian Chambers of Commerce & Industry (FICCI) Global Skills Summit 2022.
Theme: Education to Employability – Making It Happen.
The 2015 Report on National Policy on Skill Development and Entrepreneurship estimated that only 4.7% of the total workforce in India had undergone formal skill training compared with 52% in the US, 80% in Japan, and 96% in South Korea.
A skill gap study conducted by the National Skill Development Corporation (NSDC) over 2010-2014 indicated an additional net incremental requirement of 10.97 crores of skilled manpower in 24 key sectors by 2022.
In addition, the 29.82 crore farm and nonfarm sector workforce needed to be skilled, reskilled, and upskilled.