Justice Dipankar Dutta : Took Oath As a Judge Of The Supreme Court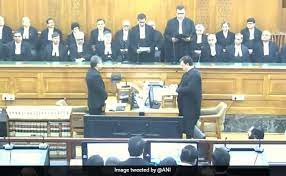 Justice Dipankar Dutta recently took oath as a judge of the Supreme Court. With the appointment of Justice Dutta, the Supreme Court will have 28 judges out of the strength of 34 judges.
Article 124(3) of the constitution mentions the following people as eligible to become a Supreme Court (SC) Judge:

A High Court (HC) judge who has held that post for 5 years or more.
An advocate who has practiced in the HC/SC for 10 years or more.
A distinguished Jurist (no judge appointed on this basis till date).

Article 124(2)says that the President of India Shall appoint the judges after consultation with such number of Judges of the SC/HC as he deems necessary.
For appointment of any Judge of SC (other than CJI), the CJI must be consulted.