Gold Exchange Traded Funds: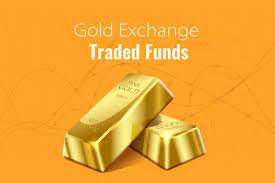 In July 2022, Gold Exchange Traded Funds (ETFs) witnessed a net outflow of Rs 457 crore as investors parked their money in other asset classes as part of their portfolio rebalancing strategy.
This was in comparison to a net inflow of Rs 135 crore in June 2022.
Gold Exchange Traded Funds which aims to track the domestic physical gold price, are passive investment instruments that are based on gold prices and invest in gold bullion.
Gold ETFs are units representing physical gold which may be in paper or dematerialised form.
One gold ETF unit is equal to 1 gram of gold and is backed by physical gold of very high purity.
They combine the flexibility of stock investment and the simplicity of gold investments.
There is complete transparency on the holdings of an ETF.
Gold ETFs have much lower expenses as compared to physical gold investments.
No wealth tax, no security transaction tax, no VAT and no sales tax is levied on ETFs.
There is no fear of theft as ETFs are safe and secure as units held in Demat Account of the holder.