Hallmarking Of Gold: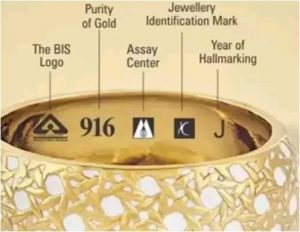 The government has announced the phased implementation of mandatory hallmarking of gold jewellery with effect from June 16.
In the first phase, gold hallmarking will be available only in 256 districts and jewellers having annual turnover above Rs 40 lakh will come under its purview.
Hallmarking is the "accurate determination and official recording of the proportionate content of precious metal in precious metal articles."
So, it is like a "guarantee of purity or fineness" of precious metal articles.
The Bureau of Indian Standard (BIS) operates a gold and silver hallmarking scheme in India.
Metals covered under the purview of hallmarking:

Gold jewellery and gold artefacts.
Silver jewellery and silver artefacts.