Saksham Anganwadi And Poshan 2.0: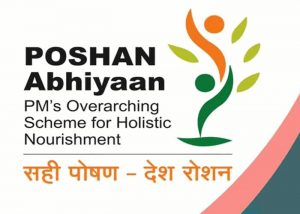 Ministry of Women and Child Development has issued Operational Guidelines regarding implementation of Saksham Anganwadi and Poshan 2.0.
It will also promote Aadhaar seeding of beneficiaries to ensure last-mile tracking of take-home rations and tracking of migration of pregnant women and lactating mothers.
Saksham Anganwadi and Poshan 2.0:
In Financial Year (FY) 2021-22, the Government of India (GoI) restructured the Integrated Child Development Services (ICDS) and POSHAN (Prime Minister's Overarching Scheme for Holistic Nourishment) Abhiyaan into Saksham Anganwadi and POSHAN 2.0
The restructured scheme consists of the following sub-schemes:

ICDS
POSHAN Abhiyaan
Scheme for Adolescent Girls (SAG)
National Creche Scheme

Fund: Poshan 2.0 is an ongoing Centrally-sponsored programme being implemented through the State Governments/ UT administrations based on a cost sharing ratio between the Central Government and the State Government.
Vision: It seeks to address the challenging situation of malnutrition among children up to the age of 6 years, adolescent girls (14-18 years) and pregnant and lactating women.
It is crucial for India's development as women and children comprise over two thirds of India's population.
The achievement of the Sustainable Development Goals lies at the fore-front of this programme design.
It shall contribute to the SDGs, specifically, SDG 2 on Zero Hunger and SDG 4 on Quality Education.
The Mission will focus on the fundamental importance of nutrition and early childhood care and education for the well-being, growth and development of children into healthy and productive adults.
The scheme is open to all eligible beneficiaries and the only pre-condition is that the beneficiary has to be registered at the nearest Anganwadi centre with Aadhaar identification.
The beneficiaries for the scheme will be adolescent girls in the age group of 14-18 years who will be identified by the states concerned.
AYUSH shall propagate the campaigns of 'Yoga at Home, Yoga with Family' and AWCs and households to encourage beneficiaries to practice yoga and stay healthy.
The Ministry of AYUSH shall extend technical support for scheme implementation.
Efforts shall be made for 100% measurement of the children.
It promotes the Use of jaggery, Fortification with indigenous plants like moreng (sahjan/drumstick) and ingredients that provide higher energy intake in smaller volume of food.