Harit Sagar Green Port Guidelines 2023: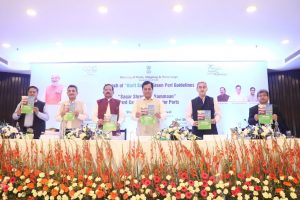 The Ministry of Ports, Shipping & Waterways has launched 'Harit Sagar' Green Port Guidelines 2023 to achieve the Zero Carbon Emission Goal.
Sagar Shreshtha Samman awards were also conferred to major ports for their exceptional achievements in various operational parameters.
Harit Sagar Guidelines 2023 reflects the vision of making India's ports more environmentally friendly and sustainable.
They also cover aspects of the National Green Hydrogen Mission pertaining to ports, development of green hydrogen facility, LNG bunkering, and Offshore Wind Energy among others.
These guidelines also provide the provision for adopting the global Green Reporting Initiative (GRI) standard.
Objectives:

To promote the adoption of best practices and technologies for green port development and operations, such as renewable energy, water conservation, biodiversity protection, and climate resilience.
To minimize waste through Reduce, Reuse, Repurpose and Recycle to attain zero waste discharge from port operations.
To establish a rating system for assessing and benchmarking the environmental performance of ports based on various indicators and parameters.
To incentivize and recognize the ports that achieve high standards of environmental excellence and sustainability.
To facilitate the integration of green port principles into the planning, design, construction, operation, and maintenance of port infrastructure and services.