Mayon Volcano: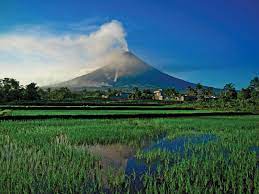 Around 13,000 people have been evacuated from the northeast Philippines as the country's most famous volcano, Mayon, continued to burst lava.
Mayon Volcano is an active volcano in southeastern Luzon, Philippines.
Its name is derived from the local word for beautiful lady, daragang Mayon.
It is called the world's most perfect volcanic cone because of the symmetry of its shape.
It lies in the Pacific Ring of Fire region, a major area in the basin of the Pacific Ocean where a large number of earthquakes and volcanic eruptions occur.
Pacific Ring of Fire:
It also known as the Circum-Pacific Beltis a path along the Pacific Ocean characterized by active volcanoes and frequent earthquakes.
Its length is approximately 40,000 kilometres.
It traces boundaries between several tectonic plates—including the Pacific, Juan de Fuca, Cocos, Indian-Australian, Nazca, North American, and Philippine Plates.