Ikshak: The Survey Vessel (Large) ships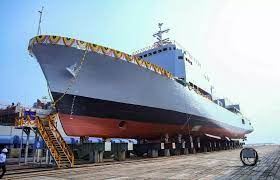 Indian Navy launched 'Ikshak', the third of the four survey vessels (Large) project at Kattupalli in Tamil Nadu
The ship, named 'Ikshak' which means 'Guide', is being built by Garden Reach Shipbuilders and Engineers (GRSE) and Larson and Toubro (L&T).
The ship's name honours the role that Survey ships have played in ensuring the safety of mariners when at sea.
The first of class ship 'Sandhayak' was launched on December 5, 2021 at GRSE, Kolkata. SVL ships will replace the existing Sandhayak Class survey ships with new generation hydrographic equipment to collect oceanographic data.
The Survey Vessel (Large) ships are 110 m long, and 16 m wide with a deep displacement of 3400 tons and a complement of 231 personnel.
The ship's propulsion system consists of two main engines with twin shafts, each capable of a maximum speed of 18 knots and a cruise speed of 14 knots.