Elephant Corridor Case: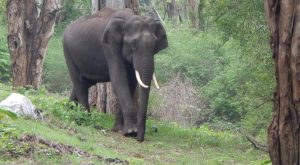 The Supreme Court has appointed conservationist Nandita Hazarika as Member of a Technical Committee constituted by it on October 14 last year to hear complaints by landowners against the action taken by the Nilgris Collector, which included the sealing of their buildings and allegations about the "arbitrary variance in the acreage of the elephant corridor."
On October 14, the court upheld the Tamil Nadu government's authority to notify an 'elephant corridor' and protect the migratory path of the animals through the Nilgiri biosphere reserve.
The court had said it was the State's duty to protect a "keystone species" such as elephants, immensely important to the environment.
The corridor is situated in the ecologically fragile Sigur plateau, which connects the Western and the Eastern Ghats and sustains elephant populations and their genetic diversity.
It has the Nilgiri Hills on its southwestern side and the Moyar River Valley on its north-eastern side. The elephants cross the plateau in search of food and water.
Elephant Corridors:
Elephant corridors are narrow strips of land that connect two large habitats of elephants.
Elephant corridors are crucial to reduce animal fatalities due to accidents and other reasons.
So fragmentation of forests makes it all the more important to preserve migratory corridors.
The movement of elephants is essential to ensure that their populations are genetically viable. It also helps to regenerate forests on which other species, including tigers, depend.
Nearly 40% of elephant reserves are vulnerable, as they are not within protected parks and sanctuaries. Also, the migration corridors have no specific legal protection.
Forests that have turned into farms and unchecked tourism are blocking animals' paths. Animals are thus forced to seek alternative routes resulting in increased elephant-human conflict.
Weak regulation of ecotourism is severely impacting important habitats. It particularly affects animals that have large home ranges, like elephants.
'Gaj Yatra', a nationwide campaign to protect elephants, was launched on the occasion of World Elephant Day in 2017.
The campaign is planned to cover 12 elephant range states.
The campaign aims to create awareness about elephant corridors to encourage free movement in their habitat.