India's Defence Exports: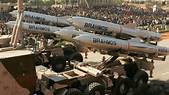 India's defence exports for 2021-22 were estimated at Rs 13,000 crore, the highest ever.
The U.S. was a major buyer, as also nations in Southeast Asia, West Asia and Africa.
The private sector accounted for 70% of the exports, while public sector firms accounted for the rest.
Earlier, the private sector used to account for 90% but now the share of defence public sector units had gone up.
While India's defence imports from the U.S. have gone up significantly in recent years, Indian companies have been increasingly becoming part of the supply chains of U.S. defence companies.